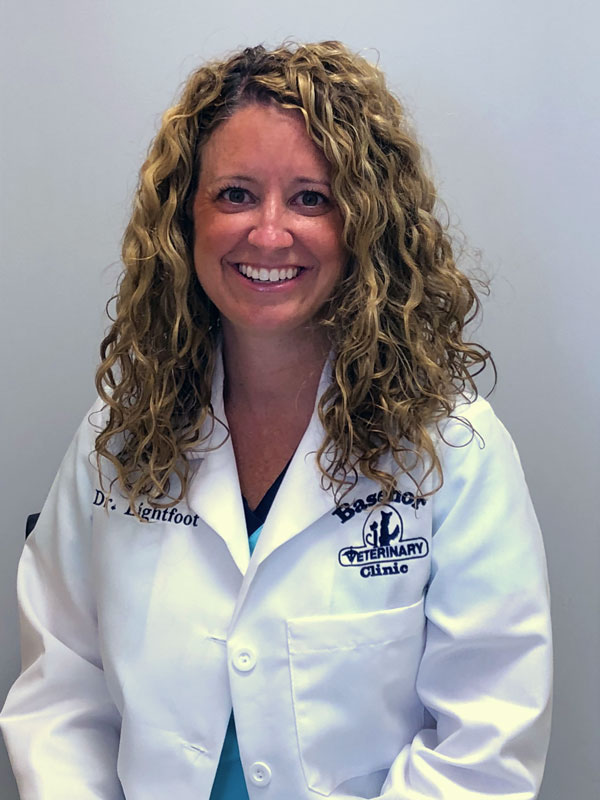 Dr. Kelly Vader Lightfoot - DVM
Dr. Kelly Vader Lightfoot was born and raised in Kansas City, Kansas. She graduated from Kansas State University's College of Veterinary Medicine in 2003 and initially practiced in the Brookside area of Kansas City, Missouri. She took over the Basehor Veterinary Clinic in July, 2009, when Dr. Ringel retired. Dr. Lightfoot lives in Piper, Kansas with her husband, Brad; their daughters, Georgia and Ella; and their Great Danes, Annie and O'Malley; their Havanese, Luke. Since Brad is allergic to cats, Dr. Lightfoot's cat, CeCe resides at and supervises operations at the clinic. In her spare time, Dr. Lightfoot enjoys playing golf, playing piano, going to the lake, and spending time with family and friends.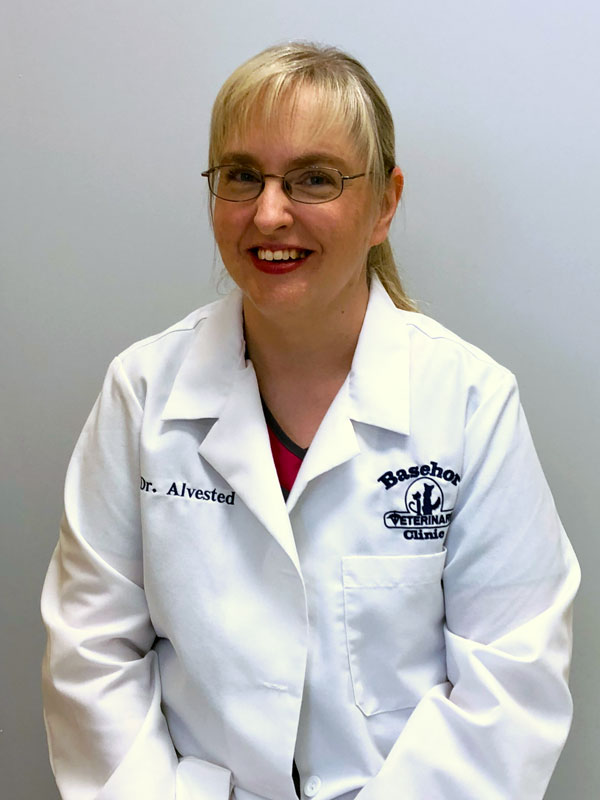 Dr. Kathi Alvsted - DVM

Dr. Kathi Alvested graduated from The University of Missouri – Columbia, College of Veterinary Medicine in 1998. Growing up in Independence, Missouri, she was impelled back to the Kansas City area to practice veterinary medicine and joined Basehor Veterinary Clinic in 2015. Dr. Alvested brings a wealth of knowledge along with her 17 years of experience that includes a special interest in feline medicine. When she is not busy at work, she enjoys reading, cooking, spending time with friends and family. Of course, we can't forget about Dr. Alvested taking care of and loving on her three cats at home!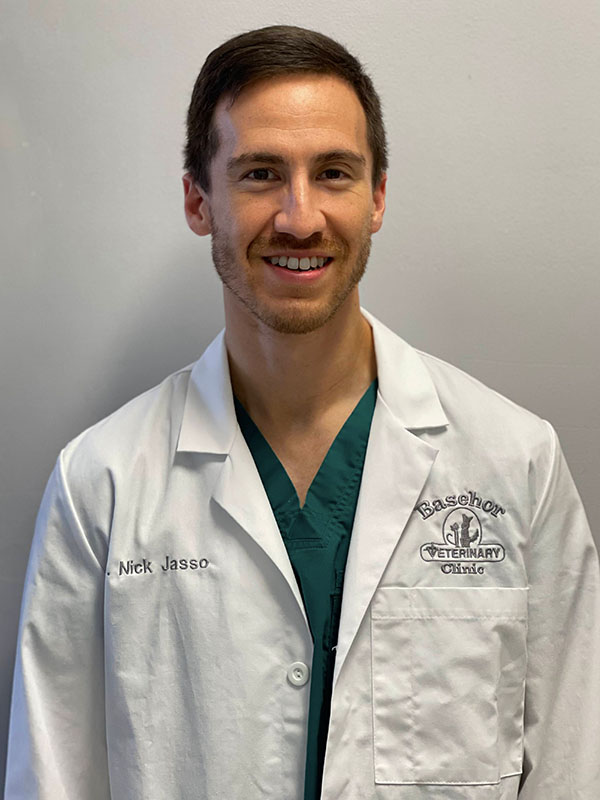 Dr. Nick Jasso - DVM
Dr. Nick Jasso grew up in Emporia, KS. He graduated with his DVM from Kansas State University in 2012. He moved to Delaware where he completed an internship and then worked as an associate for 7 years before moving to Kansas City in the summer of 2019. He met his fiance, Amber, in 2020 and they welcomed their baby daughter Alexis in May 2021. In his free time Dr. Jasso enjoys exercising, watching sports, and spending time with his family and dogs Leena and Bandit.
April Angelotti - RVT
April joined Basehor Veterinary Clinic in 2019. She resides in Basehor along with her husband, 3 children, 2 dogs, 2 cats, and 2 horses. She began her career working in veterinary medicine in 1999 as a veterinary assistant and graduated from the Maple Woods Community College Veterinary Technician Program in 2003. April has special interests in surgery, anesthesia, and pain management.  Outside of the clinic, April enjoys gardening, canning, cooking, and her children's youth sports activities.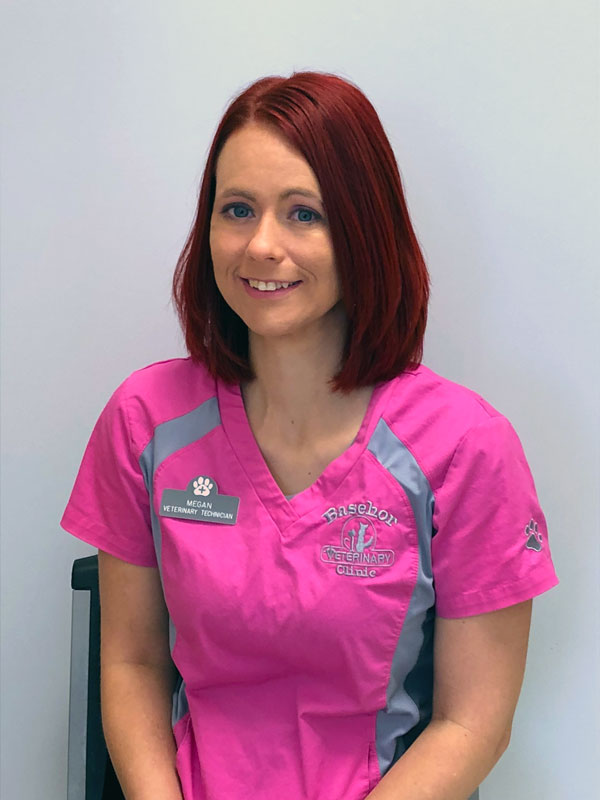 Megan Hix - Veterinary Technician
Megan was born and raised in Shawnee Mission, KS, where she still resides with her husband, two daughters, their two cats, a dog, and a bird! Megan graduated from Shawnee Mission North High School. She received her Associate's Degree in Veterinary Technology from Anthem College in 2012 and began working at Basehor Veterinary Clinic shortly thereafter. Megan says that personally getting to know clients and their pets is one of the best things about her job. She cares for every veterinary patient as if it is her own and feels that she has found the best environment to work with animals at Basehor Veterinary Clinic.
Megan Pinedo - Veterinary Assistant

Megan was born and raised in Leavenworth, KS where she currently lives with her daughter, dog, and cat. She enjoys being outdoors, traveling, and riding her horses. From a very young age, Megan always loved animals and working with them. She received her Certification in Veterinary Assisting in 2015 and started working at Basehor Veterinary Clinic in 2016.
Rachelle Leihy - Veterinary Assistant

Rachelle grew up in the Basehor/Tonganoxie area and continues to raise her own family here. She graduated in 1994 from Basehor-Linwood High School. After many years as a stay-at-home mom to her son and daughter, she joined our team at Basehor Veterinary Clinic in 2012. Rachelle fulfills a variety of veterinary functions ranging from answering the phone and greeting clients and patients to taking x-rays and preparing for, and assisting with, medical and surgical procedures. She is passionate about learning and has really been a natural in the veterinary field. Rachelle and her kids also give a loving home to their own pets, three dogs and a cat.
Milan Piva - Receptionist


Milan Piva was raised in South East Kansas, but currently resides in Kansas City, MO. She graduated from Baker University with a degree in Biology. She then attended Emporia State University for her Masters of Ecology and Biodiversity. Her hope is to pursue veterinary medicine. In her free time, you can find Milan spending time with her three dogs, Moose, Marbles, and Dais; her cat Fego; and two guinea pigs, Fink and Auggie. Milan is also an avid painter and gardener.